Through our partnership with SimpleFX you can now get 20% cash back with this link: SimpleFX.
What is SimpleFX?
After 1Broker got shuttered by the FBI I knew I needed a replacement for degen 10x bets on US equities, and quickly! I was surprised to find the options were few for CFD shops that allowed for trading stocks with bitcoin but am relieved to find that SimpleFX has all of the features I had with 1Broker, and actually much more. Since its inception in 2014, it has continually grown into a very powerful, distinct platform designed to offer you quality features, and value for all types of trading instruments. Yes, even select US equities, but you'll need to be using a connection outside the US to legally purchase these.
You can also use SimpleFX to trade around 60 of the most important currencies in the world, oil, metals, major stock indices and other commodities. And with bitcoin, you can do so anonymously. Amazing!
The Web Interface
Okay I'll be honest, out of the group I trade with, some of us love the SimpleFX website UI and some of us do not (me). I prefer simple and clean. The good news is that if you're familiar with MetaTrader 4 you can simply download a client and start trading. Meta Trader 4 is an advanced trading app with wonderful charts and indicators you can download from SimpleFX and I highly recommend it!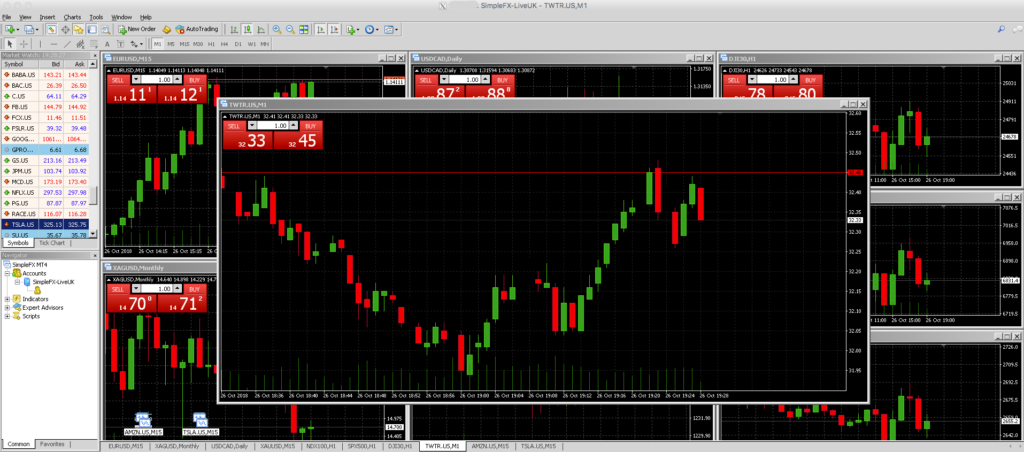 MetaTrader 4 Kicks Ass
This is a very powerful trading platform that allows up to 5 regular accounts and 5 "Demo" accounts. For the Demo mode, this is a great place to test or practice trading strategies.
The powerful SimpleFX MT4 trading system allows you to implement strategies of any complexity. Market and Pending (limit) orders, instant execution by trading from a chart, Stop Orders and Trailing Stops, a tick chart and trading history — all these tools are at your disposal with MT4. With SimpleFX MT4, trading becomes flexible and convenient.
Set your Leverage
This is the most important step as SimpleFX has a default leverage setting of 500:1. Crazy! In the web interface go to Accounts & Deposits on the menu and choose a reasonable leverage amount.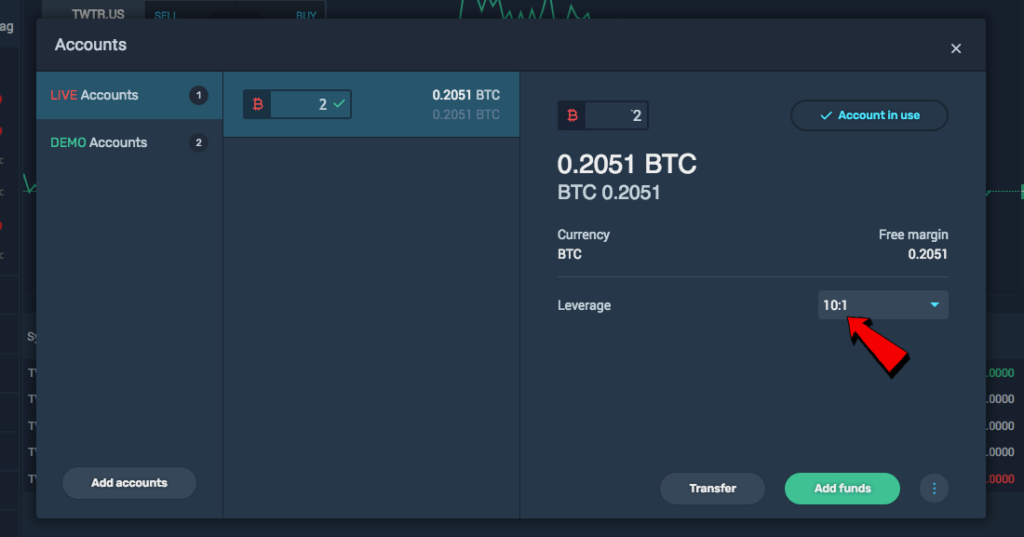 So by choosing 10:1 it means that you will be able to trade with 10x leverage. Cool right? On SimpleFX you can take advantage of leverage by setting it to anything between 1:2 and 1:500. Actual limits will depend on the balance, with higher balances been limited to lower leverages.
Configuring the MT4 Charts like a Pro
The default MT4 chart settings really suck, so you'll want to go to Charts > Properties to get them configured. check out my settings below, or scroll to the end of this article and download my template file.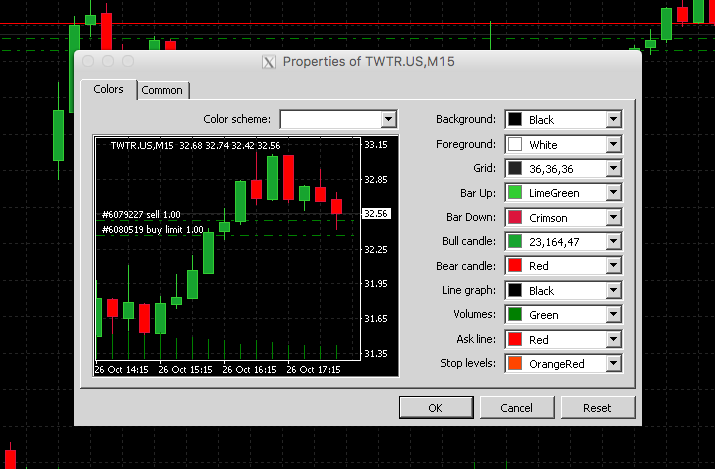 So this way you can clearly see the price, or ask line (red) and also the bid line (grey). Much better! Also turn on volume.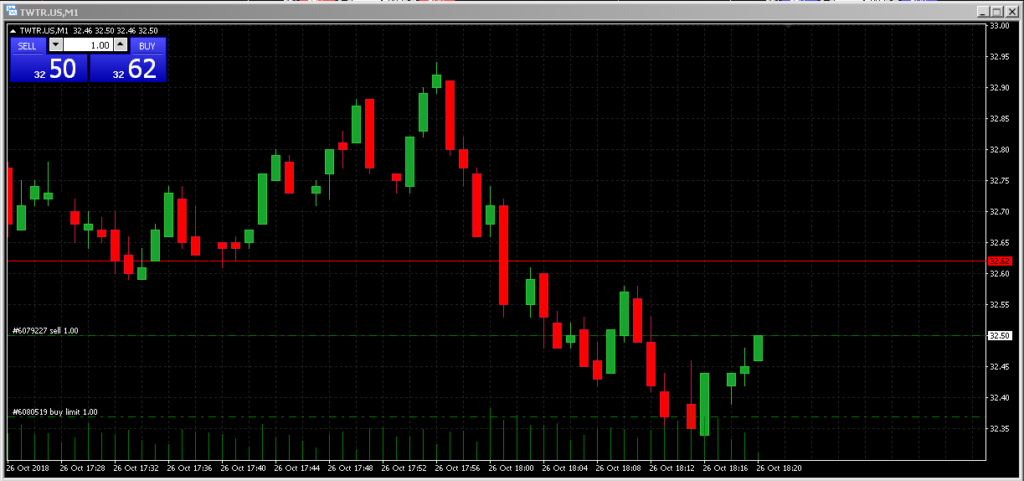 Now tell MT4 you want this to be your default chart view under Chart > Template > Save Template. Choose the Default.tpl file and click save, and overwrite. Boom, killer default charts.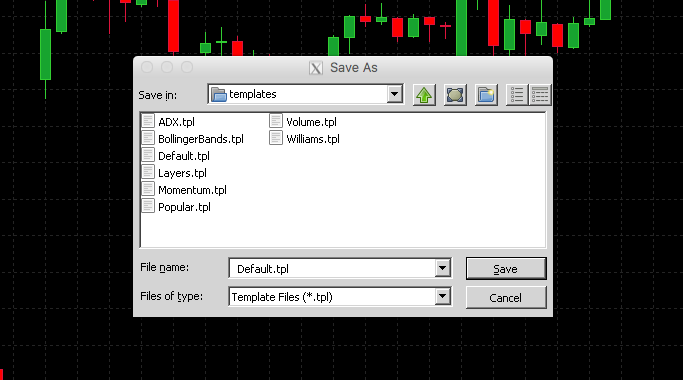 SimpleFX Order Types
Okay to place an order you can use the quick trade buttons right on the top left portion of the chart to place a market order. Consider these the fomo buttons but I rarely use them. Instead use the New Order button and you have complete control over your trade: set your stop, take profit, AND you can set a limit order type by choosing the Pending Order type. I usually use Pending orders like this to guarantee me the best price.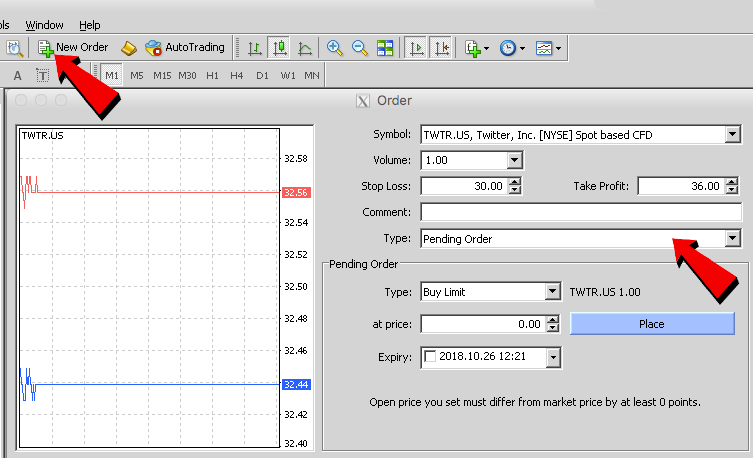 Also, super handy is the ability to modify your entire order. Simply click the order at the bottom of your screen in the open orders panel and choose Modify Order from the Type dropdown, see below.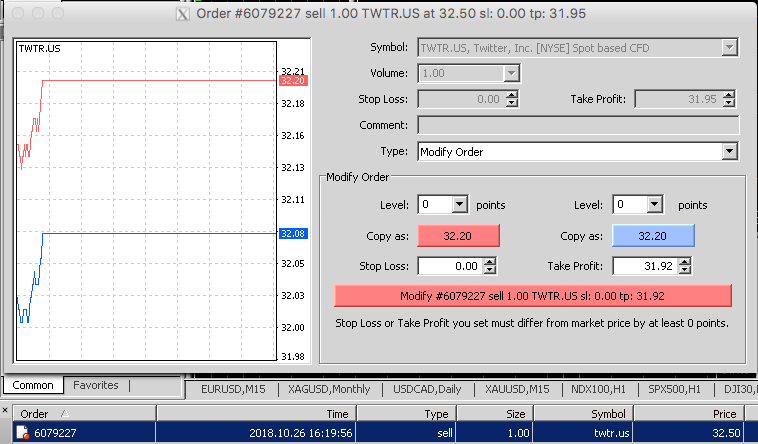 Mobile Trader App
Another important thing to note is that they've recently added a mobile trader app and it's actually quite nice. This is a very helpful tool for people that want to trade online without restriction, you can track or even perform trades from a mobile device like your iPhone or Android phone. Speaking of tools, you have quite a lot of attractive tools here. You get many charting options, as well as graph oscillators, multiple graph viewing, real-time streaming quotes as well as trading stats and direct deposit buttons.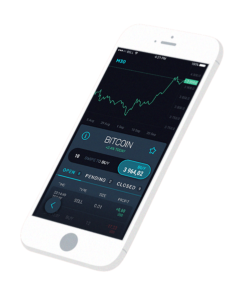 Deposit & Fees
SimpleFX offers no trading fees. Amazing right? It is but how they make money is the spread, which is usually around 0.23%. So keep an eye on the spread and compare the SimpleFX price to the actual price you find for the ticker.
Also by wary of holding a position over night at SimpleFX as the fees can be atrocious. Expect a 0.175% daily leverage financing charge for over night positions. Ouch.
After you're done paper trading to get the hang of things, you can start bitcoin trading with any amount. Simply deposit bitcoin like anywhere else, and you're ready to go.
REMEMBER: 20% cash back on new accounts with this link: SimpleFX. Good luck =]